Saturday, February 26, 2005
Lord of the Rings humour
---
Friday, February 25, 2005
Ink cartridges and TiVo
---
Front room done
For the last 10 days, we've been doing up the front room.
We had it plastered (and the kitchen ceiling, but that can wait!), and then I decorated it and put laminate flooring down. Just finished - nothing difficult but it all takes so LONG!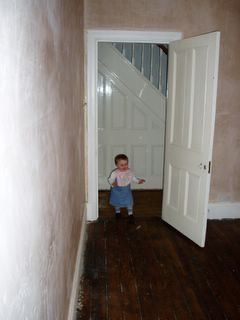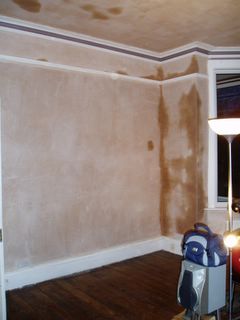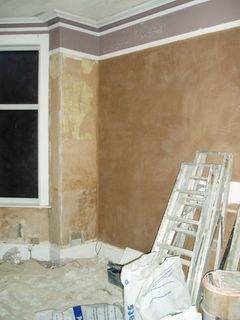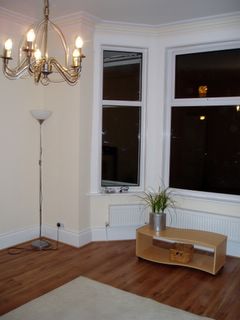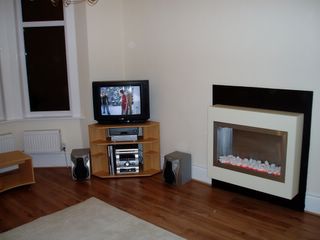 ---
Friday, February 11, 2005
Back from Paris
Ruth and I went to Paris last Sunday (6th Feb 2005). My Dad took us to Manchester airport for about 7.30am, and we flew to Charles de Gaulle Terminal 2. We each bought a 5 day, 5 zone "Paris Visite" card which allowed us to use buses/metro/RER - we used it loads. We caught an RER train to Denfert-Rochereau, and connected there to get to Trocadéro. We stayed at "Les Jardins du Trocadéro", a nice little hotel just over the road from the metro stop.

We saw a fair bit: the Eiffel Tower, the Arc de Triomphe, the Champs Elysée, the Louvre (and the Mona Lisa!), Notre Dame, the Latin Quarter, Forum Les Halles (give that a miss) and Montmartre although we left early 'cos of pushy negroes hassling the tourists. The area surrounding Sacre Cœur is, quite frankly, a DUMP.

We didn't eat breakfast at the hotel each day (it was expensive at 18€ each), and you can easily find local places that serve you both for that. The best restaurant for dinner was the last one really, a Japanese one in the Latin Quarter called "Yagiu". The worst was "Les Fontaines" near the Panthéon: despite asking for an English menu, and apologising for not speaking French we had a wizened old crone whose only word of English was "OK", who gave us a rare steak when we asked for a medium one, who couldn't use the credit card machine so I had to pay cash, and who was bloody rude to boot.

We saw Mark Hughes, the ex-Manchester United player and now manager of Blackburn, on the flight back from Paris to Manchester. I wonder who he was out tapping up!

---
Thursday, February 03, 2005
BBC Latin quiz
Hey,
not bad
seeing as I haven't done any for 16 years...
---
Nik Kershaw "Name that tune!"
---
Learning French again...
I've been toying with the idea of learning to speak French (~again). I did an O-level at school and did pretty well (well, couldn't have done any better anyway), and wanted to do an A-level but my maths teacher convinced me to drop it in favour of Further Maths. What a waste of time!
Anyway, I did some work at Microsoft in Les Ulis, Paris a couple of years ago. I came home and bought a couple of CD courses by Michel Thomas, which I've worked through a couple of times. Pretty good. I've got a few books too, e.g. Teach Yourself French. We'll have to see how it goes in Paris next week, although I doubt I'll be speaking much as I've only been brushing up for the last week or so.
Tonight though, I discovered a
web site
that puts language students of all ages and backgrounds in touch. I've registered for email contact only at the moment, so we'll see what happens!
---
Tuesday, February 01, 2005
Living with an eBay-aholic
Oh dear. Ruth discovered eBay today. She has been on it constantly for several hours. I didn't realise that at some time in her past she has had contact with troopers. The air was particularly blue when she missed out on a plasma TV for the sake of a fiver, all because she couldn't enter her credit card details for some wool that she had successfully won a bidding war for.

Her technique for said victory was to wait until one minute before the auction ended, finger poised on the ENTER key, so that she could deliver the coup de grace with an increase of 50p on her bid. Never in the course of human endeavour has there been such a feral cry of elation, although the war dance and air punching are pretty common fare for Premiership football goal celebrations.

---