Monday, January 31, 2005
So you want to know what a house is worth?
---
Sunday, January 30, 2005
A trip to Paris
Ruth and I spontaneously booked a trip to Paris yesterday. In a sudded burst of energy, I drove out to the Traffic Centre and bought a Palm Tungsten E and a travel guide.
After getting home, I trawled the web to see what travel/language software I could find for the Tungsten. Not as much as I thought, but there's some good stuff.
First I installed the Adobe Acrobat Reader so that I could look at train maps for Paris. I then found a couple of route finder apps, such as
MetrO 5.2.8
Here's the view of the Eiffel Tower from the top of the Arc de Triomphe:
---
Wednesday, January 26, 2005
ASP.Net: Checking for JavaScript & Cookies
Here
's a fairly elegant way to make sure that the client browser supports cookies and JavaScript.
---
Tuesday, January 25, 2005
Mobile phone hands-free kits & ferrite beads
My Dad told me about these years ago, but it's the first time I've seen it in the news. Worth a read if you use hands-free kits a lot. See
here
---
Nice book comment
I co-authored a JSP 2.0 book a while back with
Nick Todd
. It was nice to come across
this comment
while trawling the web in an idle moment.
---
Monday, January 24, 2005
Bannister nearly done in cellar
Nearly there. Ripped out the tongue and groove panelling that formed a floor-to-ceiling wall along the staircase in the cellar. Then:
(1) Put up a triangular stud wall along the stairs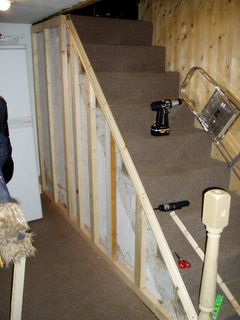 (2) Kangoed a hole in the concrete floor for the newel post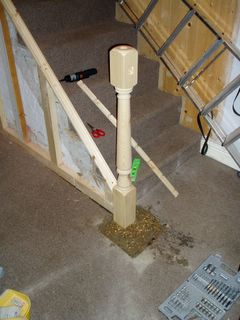 (3) Fitted base rail and hand rail
(4) Fitted spindles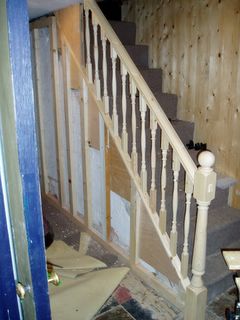 (5) Stained and varnished them all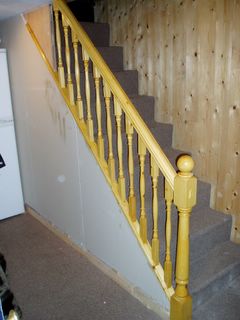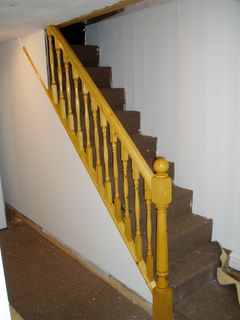 (6) Plasterboarded and papered stud wall
(7) Painted 3 doors, skirtings, walls etc
Ruth and I have come to an understanding: I buy expensive new power tools, and she thinks up projects so that I can use them!
---
iPodAgent
This
looks like a useful little freeware tool for managing files on my iPod mini.
I'll post here as I start using it.
---
Frankenstein
I'm reading the original "Frankenstein" by Mary Shelley. Blimey, will people in 150 years from now think we're windy and verbose?! From some of the SMS-text-speak that some bloggers are using, perhaps that's already the case...


---
Saturday, January 22, 2005
Nik Kershaw
I recently rediscovered Nik on the web, and bought his latest two albums via Amazon. The first, "15 Minutes" is good, but the second, "To Be Frank" is brilliant!
He played the "Here and Now Tour" in December 2004, and has a new album due out in April 2005. Can't wait! See
here
for photos Ruth took at the gig.
Check out
here
and
here
for more details, although a new official web site is due out with the new album.
---
Friday, January 21, 2005
Fitting an electric fire
Ruth decided we were going to have an electric fire installed in our lounge. Turns out I was to install it!
The previous owners ripped out the original fireplace (grr!) and then put some plasterboard and MDF in front of the hole . The wood is about 1.5m x 1.5m, with a decorative recess in the middle.
First, I wired a spur from a nearby mains socket, under the floorboards, and to behind the wood. How do you know if you can wire a spur, or whether you need to break into the existing ring? Well, if there is only one thick grey wire going into a socket, then it is already a spur, so don't extend it again! If there are more than two thick grey wires, it is already feeding a spur. If there are only two grey wires, then they are forming the ring and it is OK to run a spur from that socket.
Once the spur was wired up, I had to hang the fire. Yes, hang. There were no instructions, and the fittings were non-intuitive. To make things worse, there were hardly any bricks left behind the plasterboard. Ended up securing the MDF to the wall behind the plasterboard, and then getting the brackets into brick as well. Nightmare, but it's still up!
The final thing was getting the two little fans to spin, to simulate flames under the coals. Tried bending the supports low first of all, so that the fans were nearer the lightbulbs. Didn't work. Had to move the fans AWAY from the bulbs. If I remembered my A-level physics, I could probably explain why, but I don't and I can't.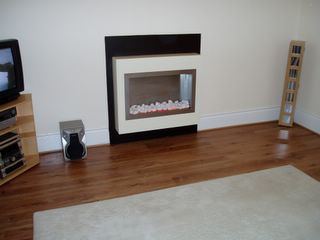 ---
Monday, January 17, 2005
Model helicopter
Finally dug my model helicopter (Raptor 30 v2) out of my Dad's attic, where it's been languishing since I moved house in the Summer. Recycled the batteries, polished the Zimmerman exhaust etc! It's just so damn windy in Manchester at the minute that I don't know when I am going to get a chance to fly it...
---
Friday, January 07, 2005
The Da Vinci Code
Have just finished reading Dan Brown's "The Da Vinci Code" which was pretty entertaining. The book has come in for criticism from certain quarters, but as a thriller with a fictional historical theme, it's well worth reading.
I saw an illustrated version in Costco at the weekend, which I wish I'd bought instead but didn't know about it!
The book (in case you didn't know) involves an organisation known as Opus Dei (see
here
) which reminded me of a flight back from St Louis last Summer when a young, clean-cut, American guy told me he was on his way to an Opus Dei convention. Sounds like I had a lucky escape there :-)
---